Improving your poker without risking big money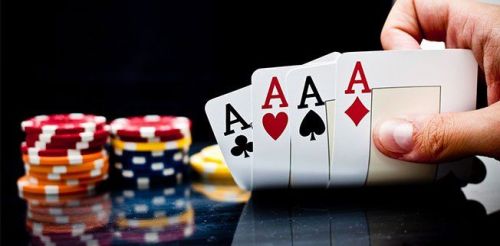 Whether you're playing for cash with your buddies on a Sunday night or you're a regular at your favorite NJ online casino, your poker game isn't going to get better without practice. But if you're new to the table, here's where you run into a Catch-22 situation. More often than not, you're losing money every time that you play, because you're a beginner and you lack experience. The only way to get the experience that will make you a better player is to keep playing, which means you keep on losing money.
Educate yourself
It's true that the only way to become a good poker player is to keep playing – ideally with some skill in the game. A little bit of theory also goes a long way, however. Don't stop at learning the rules and a few basic strategies. There is a host of books, online tutorials, videos and articles that will prove a great help in broadening your understanding of poker.
The beauty of poker lies in its complexity and depth. Study psychology and learn to read body language and get to grips with mathematics and logic. All of those disciplines will feed into your game.
Practice on your own
At the same time as you're hitting the books you need to start putting that theory into practice. Virtual poker video games can be a good way to start, although some are more realistic and effective than others. There are also poker apps for your phone of varying effectiveness. These will help you get a feel for the game, but it's not really poker if you're not going up against other players.
Play for free online
Some online poker sites will let you join a game with "play money" once you've opened an account. That allows you to join a real poker game and practice with no money being at stake. The downside is that the other players also aren't risking real money, which means the style of play is often very different from what it would be in a real money game.
A better idea may be to look for casino sites that offer no deposit games as a welcome bonus. You can move from one site to another playing these "free rolls" for the practice. Just remember that you are there to improve your skills, which means you should play exactly as if you had real money at stake.
No money tournaments
You may find a local bar in your area that hosts live tournaments for chips rather than money. Often these are free to join; the idea being that once you're there, you'll spend money on beer and food. Alternatively, set up a regular no-money game at home with friends. If you've got buddies who are at a similar level to you and are also keen to improve their game without losing dollars, this is probably the best way to go.
Once you're confident enough, move up to micro-stakes games online. Gradually hitch up the stakes when you feel that you're ready for the next level. Try out different strategies and practice your bluffing skills, but don't get reckless just because the stakes are low. The idea is to keep your emotions and your game play separate. Soon you'll be playing just like an old hand.